Media Release: Airdrie Housing Market Update
Posted by Ray Riley on Tuesday, January 26, 2021 at 4:31 PM
By Ray Riley / January 26, 2021
Comment


Housing Market Update: Airdrie
Despite recording a significant drop in sales from March through May, sales activity surged through the remainder of the year, resulting in an annual gain of 18 per cent.
The pace of sales growth far exceeded any reductions in new listings, causing inventories to fall. Inventories were trending down from elevated levels prior to the pandemic, but the pace of decline picked up toward the end of 2020.
Overall, 2020 average inventories were nearly 23 per cent lower than last year's levels. The reduction in inventory and strong sales translated into a months of supply that fell below three months in June and remained at low levels for the remainder of 2020. This is a significant improvement over the previous year and was enough to support steady gains in home prices.
The pivot in home prices started in July, where they steadily rose both on a month-to-month basis and compared to the previous year. While it was not enough to cause any significant change in the annual benchmark price from year to year, by December, the benchmark price was five per cent higher than last year.
Unlike other areas, Airdrie sales improved across all product types, but it was only the detached and semi-detached segments that saw the months of supply tighten to below three months.
Tighter conditions supported recent price gains in each of those segments, but these gains only offset earlier pullback in the detached sector, where annual benchmark prices increased by nearly two per cent.
Prices remain well below the highs recorded in 2015, but this was a step toward recovery. The same cannot be said for both row and apartment-style properties, which both recorded further price declines this year, contributing to the 20 per cent spread from previous highs.
In a market where there has been rising demand for detached properties, Airdrie has likely benefited from its relative affordability compared to Calgary. According to our benchmark, the average detached home in Airdrie is priced at $369,583, while the average detached home in Calgary has a benchmark price of $483,567.
While some supply adjustments are expected to occur next year, we anticipate that many of the favourable conditions in this market will persist, supporting further price recovery.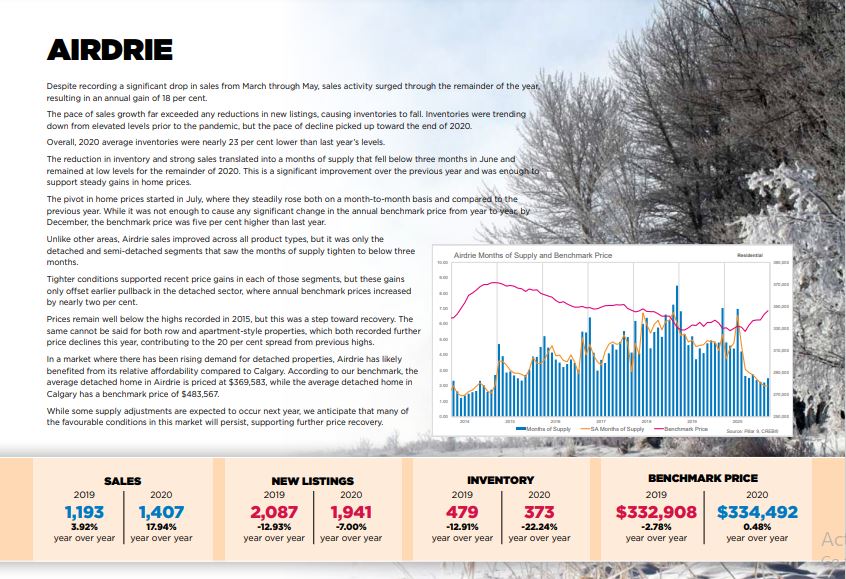 For more information on Calgary Housing Market Updates, Calgary Surrounding Area Housing Updates and Your Neighbourhood's Housing Market Updates follow these links or use the contact forum below!